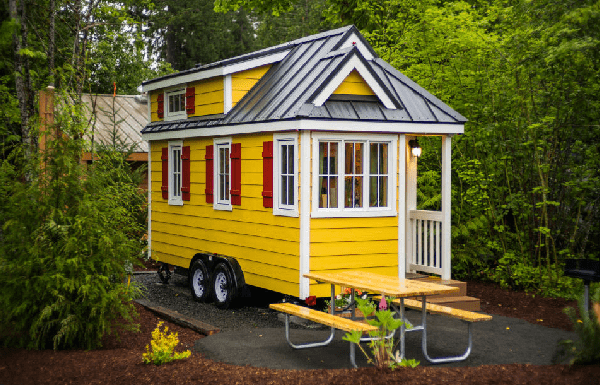 "They may be tiny, but they have lofty goals—putting roofs over the heads of people who never dreamed they could own a home."
Those are the words of Jeffrey Brown, reporting this week from Detroit in PBS's ongoing series about poverty and opportunity in America called Chasing the Dream.
Brown's video reporting is introduced to viewers this way: "Tiny houses are all the rage. Today, there's a twist. Tiny houses are being seen as giving homeless and low-income people a chance at home ownership."
Are you skeptical of the PBS team's claim that this Detroit community is catching the imagination of Americans nationwide? Well, consider that Facebook's NowThis video series posted a much shorter report on these tiny homes in June — and that Facebook video already has racked up 34 million views.
There's a lot to learn about this visionary concept. You've probably heard about the popularity of "tiny houses" already. In fact, there are TV series about this trend, including Tiny House Hunters. But this Detroit concept—originated by Faith Fowler, the founder of Cass Community Services—is something new.
Yes, this involves little homes. But, no, this isn't "like Habitat for Humanity." No, this isn't like any other group of tiny houses you've seen in other regions of our country. Before Faith and her team of Detroit-based allies broke ground, she crisscrossed the country looking for the best ideas in other communities. "And people were very open about helping us," she said.
Then, Faith used the basic idea of micro-homes to lay out a visionary, multi-year plan for creating an entire neighborhood in one of Detroit's most blighted areas.
The entire story—and gorgeous color images—are in her newest book, Tiny Homes in a Big City. The book has not yet rolled off the printing press and already more than 800 copies have been pre-ordered — an amazing sign of reader interest. You can visit the Cass website now and pre-order your own copy.
Why are we using the phrase "utopian community" in this story? Because the search for new ways to build and organize close-knit communities is an American idea stretching back more than two centuries. Remember the Shakers? Amana? New Harmony? That's the ambitious vision driving Faith Fowler and her team.