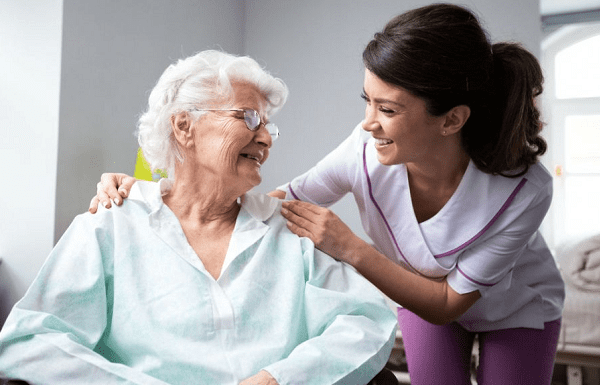 The future of work in the US is uncertain. Artificial intelligence, self-driving cars, and the move away from full-time employment are all factors that make it increasingly unpredictable.
Yet there is one thing we do know. The US population is getting a lot older, and that means more jobs caring for the elderly. A lot more.
The US Bureau of Labor Statistics recently released their projections of which jobs will grow the fastest from 2016 to 2026. The Bureau expects the job of "personal-care aide" to grow faster than any other, with about 750,000 additional jobs; "home-health aide" is fourth on their list of fastest growers, adding an additional 425,000 jobs to the economy. Both jobs involve assisting people with diseases and disability, usually the elderly, as they continue to live their lives at home — the major difference being that home-health aides can legally offer some medical services.
If the Bureau is correct, these jobs would go from 2.3 million of all US jobs in 2016 to about 3.4 million in 2026, accounting for 10% of all jobs created over the next decade.
Not only are home-health and personal-care aides growing the most in absolute terms, they also have among the fastest growth rates at 47% and 37%, respectively. "Solar installers" and "turbine technicians" are the only two occupations the Bureau expects to grow faster. But in absolute terms, these renewable-energy jobs only project to create about 16,000 jobs, a relative pittance compared to the elderly-care industry.
The projections for the growth of elderly-care aides are consistent with recent history. The number of US workers in home health care jumped from less than 700,000 in 2002 to more than 1.4 million in 2017. Many of these aides do so through self-employment.
As baby boomers age into retirement, and illness makes them less able to care for themselves, elderly-care aides now do what, in previous generations, would have been done by family members. The pay for providing this care is not particularly good. In 2016, the median hourly wage for elderly-care aides was $10.66, compared to $17.81 for the average job. US News & World Report rates these jobs as above average in stress level and below average in flexibility.
Elderly-care aides jobs are generally filled by women, people of color, and those with a high-school education or less. According to the Paraprofessional Healthcare Institute, nearly a quarter were not born in the US. The fact that many of the people who work in the profession are marginalized in US society may account for how little attention these jobs receive compared to coal miners and factory workers.
In his recent book, Who Will Care For Us?, Paul Austerman, a professor at MIT's Sloan School of Management who studies the elderly-care labor market, proposes that, with a combination of increased training and reduced restrictions of the services aides can legally provide, these jobs would be better paying, higher status, and a more efficient part of the economy. He points out that, at the moment, personal care aides are not even allowed to administer eye drops in some states.
Raising the status of elderly care jobs would be a boost to the economy and the life satisfaction of the elderly. It would be a very good investment.